Home_Automation eHouse est provecta solutio pro electronic domum , cum implemented multis algorithms , quae operari independenter de invicem .
Temptans debugging controller moribus est ultum facillimus super tabulam quam installed in ædificationibus .
Demonstratio / Rectum Module debet ergo erit primum tool , quod sino vos ad excogitandum, et periclitandae installation et plastica, Domesticae Automation , nec tamen in stadio consilium Automation control . Smert domum demonstratio module de eHouse4Ethernet sino vos ut temptare moderatoris , multo tempore sine necessitate positum – consumens installation domi .
Applicationem perpensionis module sino vos ut stratores fabulis et suppositionibus circa realis moderatoris in ratio prope ad target environment .
Perpensionis Module permittit tentantes omnium Ethernet moderatoris:
CommManager
LevelManager
EthernetRoomManager
EthernetHeatManager
alia magna – scale Ethernet – substructio moderatoris in PCB de CommManager / LevelManager
aliud medium substructio Ethernet moderatoris in PCB de EthernetRoomManager
Permittit directam nexus omnium input et output signa modulus:
connexa ostentantes output status LEDs
connexa Analog sensoriis

luminatione – phototransistor pro visibilibus lux
temperies – LM335 , MCP9700 , MCP9701

virgas connexa digital inputs
connexa LEDs ad ostentationem obscurius level
IR receptore controlare EthernetRoomManager
IR EDITOR controlare external audio – Video systemata
In addition , in demo unitas habet connectors pro automatic testing omnium Ethernet moderatoris , operantur, hardware resources:
digital inputs
digital outputs
mensuraui inputs – Analog / Digital converters
PWM dimmers
IR transfusor
IR receptator
Arbitrium est in dubio, utrum velit , possibile est, ad sui – test software temptare module pro aliquod damnum .
Aestimatio de uno modulo , si permittit determinare quaestiones per automatic
damnum control
malus module configuration
erroris vel system defectu
damnum switch , Sensorem , Obscurius , actus
Demonstratio et perpensa est outputs in module: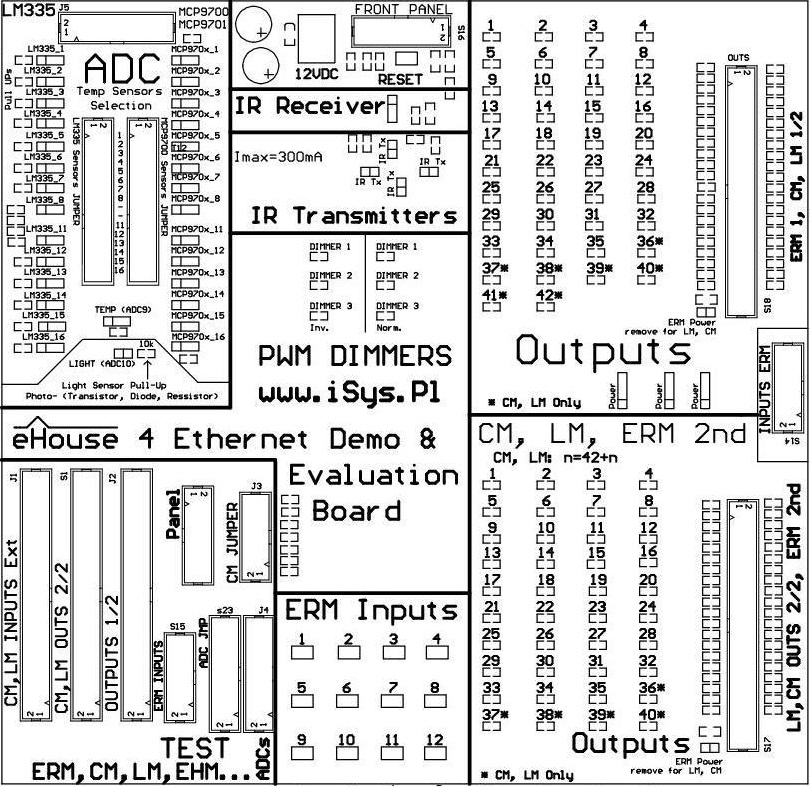 Demonstratio module habet plures sectiones temptare control algorithms , functionality et plastica:
Sectiones II output " Outputs " præbens simultaneo probatio duo medium – amplitudo moderatoris aut unum magnum
" ADC " – sensoriis est aestimare omnes Analog / digital converter inputs
" Inputs " – digital inputs
" IR transfusor " – IR transfusor
" IR Receiver " – IR receptator
" Dimmers " – PWM Dimming normales et transpositus
" OBRUSSA " – controller sui – test section
Digital input section – OUTPUTS
Is has installed LEDs iunctus ut singulis digital output alicuius controller .
Activation de output et illuminabit DUXERIT iunctus ut a specifica output de controller .
Sectiones hove respective XLII et XL outputs valint tentantes of omnia genera Ethernet moderatoris .
Digital potenti Section – INPUTS
Habet installed virgas " ventilabis puga pyga " iunctus ut singulis input (max XII) , CORREPTIO eos ad humi residebant, cum puga pyga premitur .
COPULATRIX inputs compatitur secum vexillum ERM .
Section dimmers – Dimmers
Singulis controller habet III DC PWM dimmers sine potentia auriga .
Output potest directe controlare DUXERIT potestatis auriga transmittentes insulator duobus modis:
Normal – DUXERIT obscurius ponitur inter output (anode) et humus systematis (cathode)
Inverso (INV) – ponitur inter output de DUXERIT obscurius (cathode) et positivum voltage controller 3V3 (anode)
In obscurius utitur LEDs in illustrando level .
Sectiones IR transfusor et receptor – IR
Ultrarubrum receptore section includit ultrarubrum signum receptore IC pro sui – test vel imperium ERM cum vexillum ultrarubrum longinquus imperium Nulla
IR transfusor section includit ultrarubrum emitters (LEDs emisso in ultrarubrum) cum current cohibentem resistors in tutum pretii in controller et LEDs . Ponitur autem ad temptare transmissio control signa audio – Video apparatu a ERM controller
Analog / Digital Converter Section – ADC
Sectionem continet a paro of sensoriis, qui potest switch Analog inputs pro sensoriis:
usque ad XV MCP9700 aut MCP9700 sensorem
usque ad XIV sensoriis LM335 cum necessariis resistors ad supplendam voltage (3V3) of controller (CONVELLO)
lux sensorem – phototransistor
Is quoque continet a paro of " jumpers " eligere annecto ut ulla Analog sensorem inputs pro sensoriis available LM335 et MCP970x .
Autotest moderatoris Section – OBRUSSA
Hac sectione includit omnia connectors proprie connexa (inputs , Outputs) of Ethernet moderatoris , ut automatically reprehendo pro controller testing software onustos .
Is mos sino pro certa reprehendo omnes hardware curris test eventuum et ostentans errores .
Sit utendum tam pro automatic diagnosis de magistrae magnis (fundatur super CM , LM) et average (fundatur super ERM , EHM) .
Pro plurimis nuntiis de Ethernet moderatoris: Ethernet eHouse Domus Automation – RoomManager
Ethernet eHouse Domus Automation – Apartment MODERATOR
Ethernet eHouse Domus Automation – Security System Cylindris , Gates , foribus portarum – controller